With the FASTEKS® Access Line, Bossard is launching a new brand in the area of control elements. Get in touch with your Bossard contact regarding prices, availability or technical support.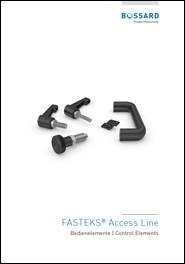 The new product range includes seven product families:
Control elements

Tensioning elements

Clamping elements

Handles

Hinges

Leveling elements

Indexing and positioning elements
148 BN (Bossard numbers) with around 3000 items.
A clear overview in a new brochure hot off the press.