Your success is important to us! Reducing your overall total cost of ownership (TCO) and boosting your productivity are key. Smart systems, such as SmartBin or SmartLabel, optimize your supply chain and take care of your B- and C-parts management.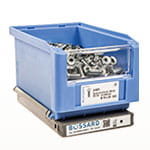 SmartBin

Boxes with integrated weight sensors continuously communicate the current stock levels and demand at your production or in the warehouse. Bossard automatically delivers replenishments based on this data, even directly to the point of use. With SmartBin classic, SmartBin mobile or the unique SmartBin flex you have the flexibility to design your ideal set up.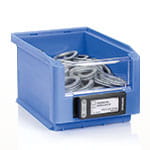 SmartLabel

Attach this intelligent label to every possible storage bin to upgrade your B- and C-part management. SmartLabel displays all relevant product information, the real-time order status and delivery date. Users can also release orders directly at the point of use at the touch of a button.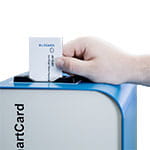 SmartCard

SmartCard combines the original Kanban card system and the latest in RFID technology for easy implementation into every production process.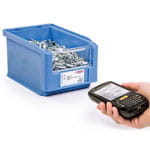 Conventional Logistics Systems

Well-known and straightforward logistics systems to increase process reliability, reduce inventories and lower process costs.