Hexagonal bolts for high strength fittings in metal construction are based on the EU Construction Products Regulation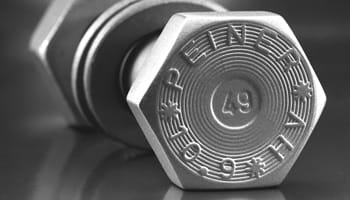 HV system EN 14399-1
Peiner HV systems are intended for highly stressed bolted joints in metal construction (for example, in structural steel engineering, for masts, in bridge construction, etc.).

In the sense of EN 14399-2, individual packaging for bolts, washers and nuts from the same manufacturer is permitted and the components can be combined.

The components of an HV system must be marked with:
the indicator HV
the manufacturer's mark
the strength class
the identification number, which ensures the delimitation of the manufacture
The perfect interaction between Peiner and Bossard guarantees consistent product quality and a high level of supply security at a price in line with the market.
Declarations of performance are issued by the manufacturer for these products. The manufacturer assumes responsibility for the conformity of the product with the declared performance. In addition, CE marking is mandatory for these products. The necessary traceability is ensured by the information on the labels and by the screw marking.



Clamping length
The clamping length is measured according to EN 14399-4 between the contact surfaces of the bolt head and the nut. (Caution: According to the old DIN 6914, the clamping length was defined between the bearing surfaces of the washers). The clamping length determines the bolt length to be selected according to the following rules, all of which must be observed: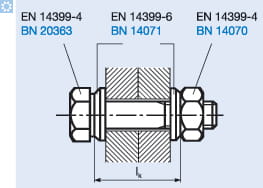 1. L-b+2p < lK
The shank length of the screw plus twice the thread pitch p must be smaller than the required clamping length lK
2. L-p-m > lK
The screw length L minus a thread pitch p minus the nut height m must be greater than the required clamping length lK

3. L-lK-m > p
In the unloaded state, the projection of the bolt from the nut must be at least one thread pitch p.