Bossard has locations nationwide and globally. As a trainee or a new employee, you will benefit from the international environment by having the option to travel while networking with others at other Bossard locations. Bossard's Graduate Trainee Program offers a well-rounded, balanced approach by exposing its participants to all departments within our company. Bossard also offers careers for those who wish to specialize in their field.
Every year Bossard attends several trade shows to stay up to date and promote the latest industry and technology trends. Traditionally, Bossard has focused on attending trade shows in the Midwest, predominantly in the Chicago area.
Some companies are confined to a single region, or demand years of experience before granting the opportunity to travel. Luckily, Bossard differentiates from these companies by having various locations across the United States in Wisconsin, Illinois, Indiana, California, Tennessee, Texas and of course Cedar Falls, Iowa, as well as to work from home opportunities for our sales professionals. This compliments anyone who wants to explore different regions of the United States. Not only is Bossard a nationwide company, but we are also global. We have 60 locations speckled worldwide in the Asia-Pacific, the Americas, and Europe and are headquartered in Zug, Switzerland.
Because we understand that as a young adult, experience and versatility is very important, Bossard offers a Graduate Trainee Program. This program offers recent graduate students to work in all departments, the opportunity to travel for two weeks throughout Europe after completion of the program, and a full time-position offer if we feel, and you feel, Bossard is a great fit for you.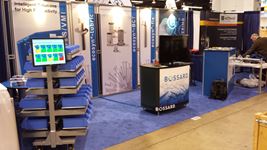 ;