The thinner metal sheets with pre-punched pilot holes are, the more problematic it is to form a thread for reliable and removable joints.

SHEETtracs® is a thread-forming screw for the assembly of pre-holed sheet metal with a thickness of less than 1,5 mm. Thanks to this reliable solution, sheet metal can be made lighter and thinner, which helps to save total cost, e.g. for white good products.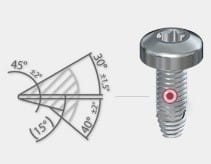 It is the special thread geometries of SHEETtracs®, that make it unique. The asymmetric 45º flank angle (30º/15º) reduces material displacement and creates a more powerful female thread in thin sheetmetal. This results in a high stripping torque and a more secure assembly. The reversed flank angle from the lower tapered area is forming the main draft and works into the tightening direction.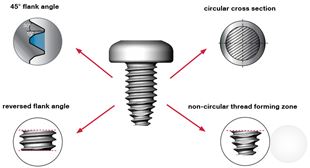 The non-circular thread forming zone ensures the centering and tightening process.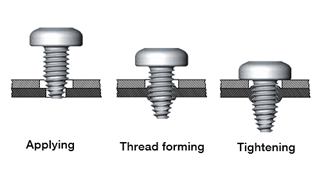 During the application of the SHEETtracs® three steps can be observed: insertion, thread forming and tightening.
SHEETtracs® screws can be assembled multiple times. Screw sizes range from 3 mm to 6 mm.

Features:
High strength of the screw joint
Reliable assembly results in good alignment and thread engagement
Robust female thread created with high stripping torque
High vibration resistance
EJOT® and SHEETtracs® are registered trademarks of EJOT SE & Co. KG.