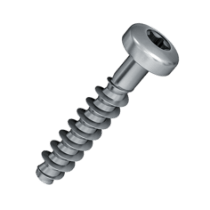 The PT® screw is designed for a self-tapping fastening solution. It can be reliably and directly assembled into thermoplastics. Thanks to the geometry and material, this screw can offer safety against hydrogen embrittlement and reduction of radial stress in the thermoplastic. Application for PT® screws can be found in many industrial environments and industries. A2 and A4 stainless steel are also available for specific demands on anti-corrosion.
Direct Assembly
The feature of a 30º flank angle enlarges thread bearing depth and results in increased load-carrying capacity. In the meantime, it lowers radial forces during installation, enlarges axial component and improves material flow.
Optimum pitch design
The optimum pitch provides good self-locking of the screw and creates balance load ratio in form of thread bearing depth.
Optimum material flow
During thread forming, PT® screws develop the optimum material flow, increased load carrying capacity and best possible resistance against relaxation with optimum boss design. There will be bigger material displacement which leads to reduced radial stress at the core area of the screw.
Efficient screwing joint, save cost
The screw joint facilitates the design of thin-walled flat structures which results in material cost saving and cycle time reduction during injection moulding.