The customer CZ a.s. is a producer of turbochargers, located in the Czech Republic. One of the products CZ a.s is making, are high quality turbochargers for commercial diesel applications. CZ a.s. is producing these turbochargers from the beginning of the 80's and has been expanding its production and Research and Development each year. CZ a.s. has expended its range of turbocharger to approximately 10 turbocharger families suitable for engine with a displacement of 1 liter up to 16 liter of displacement. CZ a.s. is offering a complete package of turbocharger development, validation and serial production for the customer to have it just in time.
In the past, hammer drive screws were used to attach the type plates to the turbochargers compressor housings. But the heads of the screws often were damaged by the hammer.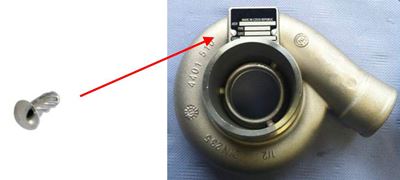 Avoiding damage and finding a solution for better appearance was the requirement of the customer.